Banana Oat & Blueberry Muffins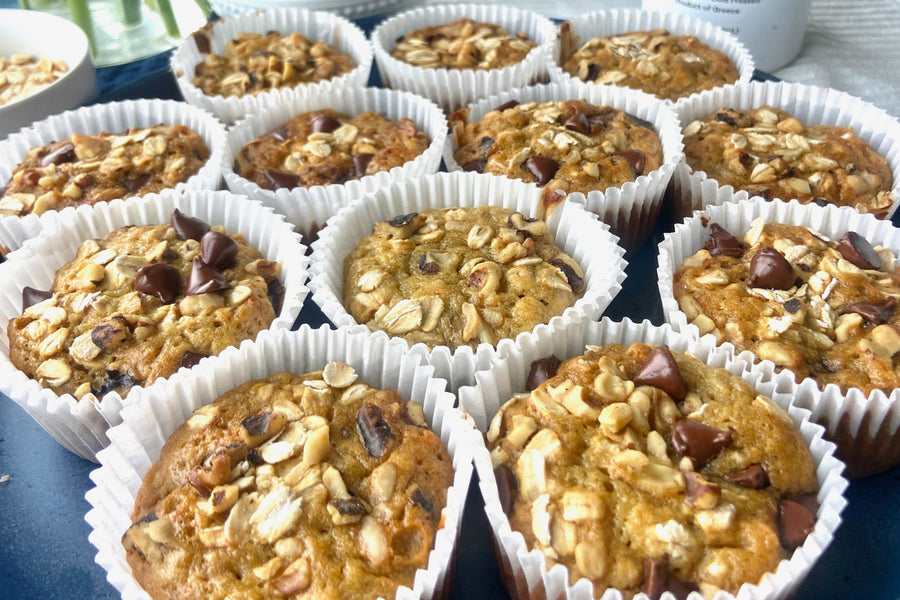 Banana Oat & Blueberry Muffins



Prep Time




20 minutes




Cook Time




20 minutes
About this recipe:
Oats, Bananas, Blueberries, Lemon, and Kosterina Original Extra Virgin Olive Oil, a polyphenol powerhouse combination. These gluten-free muffins are the perfect guilt-free treat. With the perfect amount of sweetness lifted by the tartness of the blueberries and lemon zest, you won't even be able to tell how healthy these muffins are! Enjoy!
Ingredients
1/2 cup oats

1 serving vanilla protein powder

1/2 tsp baking powder

1/2 tsp cinnamon

2 tablespoons Kosterina Original Extra Virgin Olive Oil

1 egg

1/2 tbsp maple syrup

1/2 tsp vanilla extract

1/4 cup milk

½ banana

1/4 tsp lemon zest

1/4 cup fresh or frozen blueberries
Directions
Preheat oven to 400F.

Add all ingredients EXCEPT for blueberries and lemon zest to a blender and blend until smooth.

Add batter to a greased ramekin or oven safe bowl, and stir in blueberries.

Bake for 20-25 mins until risen and a toothpick comes out mostly clean.

Let cool for a few minutes and enjoy! If you're feeling fancy add a scoop of Greek yogurt and a sprinkle of lemon zest on top!
Shop Mediterranean Essentials