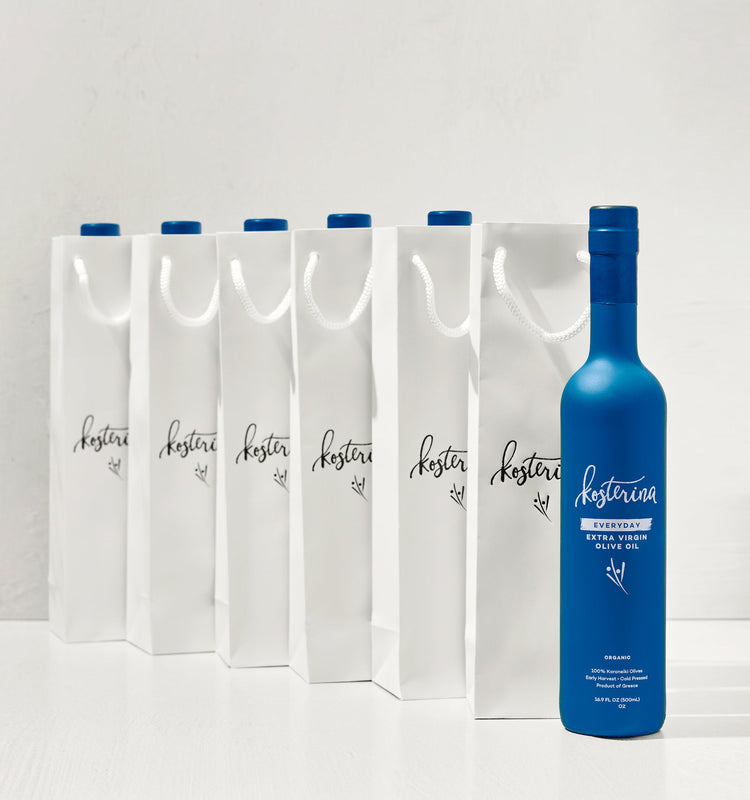 Everyday EVOO Gifting Set (6 Bottles)
Regular price
Sale price
$127
Unit price
per
EVOO is a perfect host gift, a thoughtful thank you gift, and a welcome change from gifting wine - delicious, healthy, and enjoyed by all. 
This gifting set is multiple gifts in one, with six bottles of our Everyday Extra Virgin Olive Oil and six chic white Kosterina gift bags. 
What's inside

Kosterina Gift Bag (x6)

A chic, white gift bag for all your Kosterina gifting needs. Fits one bottle (either 500ml or 375ml).
Details

Product of Greece. 6 gifts bags. 6 bottles (500ml)

Crafted with cooks in mind, the Everyday has a mild, fruity flavor with a smooth finish that will not overpower your food. This oil stands up to heat beautifully and is able to maintain its flavor with a smoke point of over 400° F. Like our ultra-premium Original EVOO, the Everyday is made from 100% Koroneiki early harvest olives. The Everyday has a polyphenol content of over 300 mg/kg as measured at the time of harvest – that's slightly less than the 470 mg/kg found in our Original EVOO but still over 6x what you can find in an average bottle at your local supermarket.
How to Use

Our Organic Everyday Extra Virgin Olive Oil has a mild fruity flavor that will not overpower your food, making it perfect for cooking just about anything. Explore all of our Mediterranean inspired recipes in the Kosterina Kitchen.
Ingredients

Organic Greek extra virgin olive oil. 100% made from a mono-varietal of certified organic Koroneiki olives grown in the Peloponnese.
Shipping

Orders ship from our warehouse in Indiana within 1-2 business days via UPS. During the holidays please allow for a few extra days for our warehouse to fulfill your order. You will receive an email with your tracking number as soon as your order ships. Please reach out to

[email protected]

for assistance with your order.
Try it with...
Why Kosterina Extra Virgin Olive Oil?
High-Polyphenol

Polyphenols are powerful, naturally occurring antioxidants that are clinically proven to reduce inflammation in the body. Our EVOO has a polyphenol content of 470 mg/kg.

Early Harvest

When olives are harvested early, they are picked and pressed before they are ripe. Our early harvest have higher levels of polyphenol content and our signature fresh, robust flavor.

Greek

All of our extra virgin olive oils are made from 100% Koroneiki olives harvested in southern Greece. The Kosterina family hails from Koroni - the home of the Koroneiki olive.
What People Are Saying
Only olive oils i buy,

Only olive oils i buy, the red pepper is so good.

Great taste

This is a great oil for everything I need from cooking to salad dressing

Great flavor, smell, price

Really happy with finding a 100% olive oil that is not cut with other industrial toxic seed oils and is also organic. The product tastes delicious and like that the packaging doesn't let light in to help maximize the quality. Typically EVOOs of this caliber are in the $30-35 price range so I was happy to find this one to be much cheaper.

Organic Everyday EVOO

Too expensive to use it for frying. Well worth it to keep for bread dipping and salades. Delish !

Every Day is Special!

If you're going to go through the trouble of preparing a nice meal then you should use great quality ingredients. This organic "gold" oil is so light and yet flavorful and its the real deal…not like the stuff on grocery shelves which are added mixed up oils and usually only a percentage of good olive oil. That stuff now taste like a bunch of chemicals…this stuff has a clean taste and is great for Italian food, mixed with one of the crush vinegars or however you want to use Olive oil….its so worth every penny!

I just received your organic

I just received your organic evoo & made salad dressing & it is so really tasty !! I love the flavour !!

Patricia S.

Verified Buyer

The oils were absolutely amazing!

The oils were absolutely amazing! They drizzled perfectly and they tasted rich and complex. I love them so much!

Everyday love oil

Been using this everyday. Absolutely love it for cooking

Delicious Organic Everyday Extra Virgin Olive Oil

This Organic Everyday Extra Virgin Olive Oil is awesome for cooking and taste delicious. I will definitely buy it again

Jean ridley j.

Verified Buyer
Reviews Loaded
Reviews Added