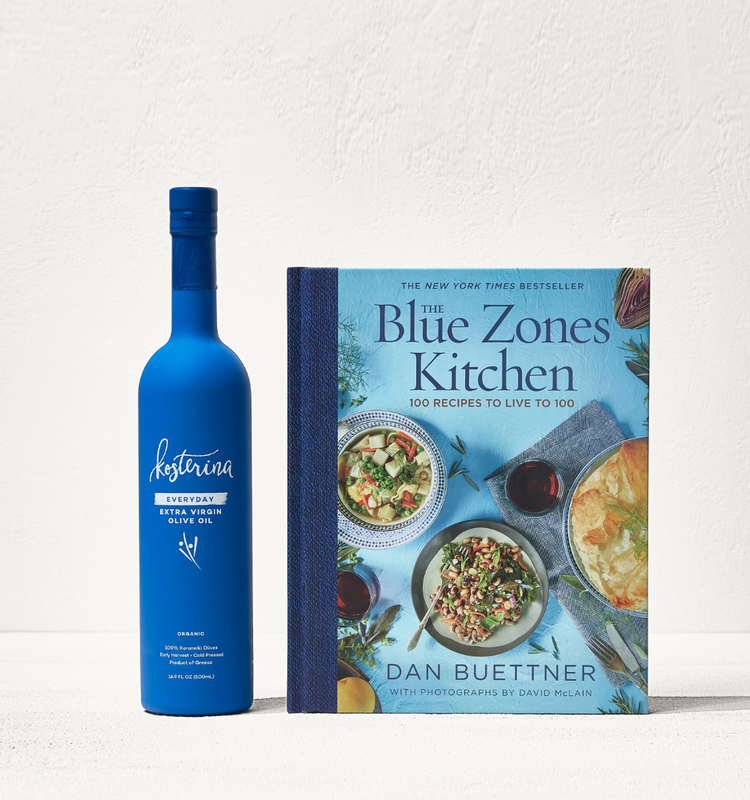 Cooking For Longevity Set
Regular price
Sale price
$44.95
Unit price
per
The Blue Zones locations around the world are where people live the longest. They are the healthiest and happiest communities in the world. All 100 dishes in the Blue Zones Kitchen Cookbook use ingredients and cooking methods proven to increase longevity, wellness, and mental health so you can live a longer, more delicious life.
Details

Harvested in January 2022 in Southern Greece. 16.9oz /500ml

At Kosterina our mission is to create a Blue Zone in every household. This set is a step in the right direction – it includes our high antioxidant Everyday Extra Virgin Olive Oil and Blue Zones Kitchen Cookbook from best-selling author Dan Buettner. Stunning photography from National Geographic photographer David McLain accompanies the stories and recipes passed down from the longest-lived people in the world.

Not only does this cookbook include delicious recipes such as Sardinian Herbed Lentil Minestrone; Costa Rican Hearts of Palm Ceviche; Cornmeal Waffles from Loma Linda, California; and Okinawan Sweet Potatoes, but it also includes lifestyle tips, such as the best times to eat dinner and proper portion sizes.

Our Extra Virgin Olive Oil is a perfect pairing, as EVOO is a dietary staple for some of the world's healthiest populations.

Hungry to learn more?

See our post It's Official: Consuming More EVOO Will Help You Live Longer and visit Blue Zones to read more on Dan Buettner's researched into the longest-lived communities.
*Select language above sourced from Blue Zones book introduction and reviews.
How to Use

Our Organic Everyday Extra Virgin Olive Oil is perfect for cooking just about anything. Recipes in Blue Zones Kitchen Cookbook will walk you through exactly how to use EVOO to create a delicious dish.
Ingredients

Organic Greek extra virgin olive oil. 100% made from a mono-varietal of certified organic Koroneiki olives grown in the Peloponnese.
Shipping

Orders ship from our warehouse in Indiana within 1-2 business days via UPS. You will receive an email with your tracking number as soon as your order ships. Please reach out to hello@kosterina.com for assistance with your order.
Try it with...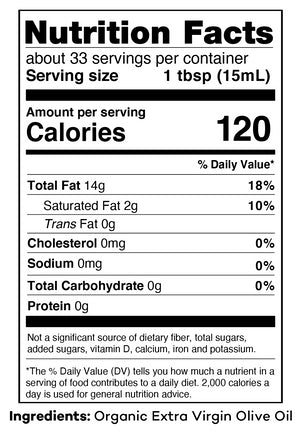 Why Kosterina Extra Virgin Olive Oil?
High-Polyphenol

Polyphenols are powerful, naturally occurring antioxidants that are clinically proven to reduce inflammation in the body. Our EVOO has a polyphenol content of 470 mg/kg.

Early Harvest

When olives are harvested early, they are picked and pressed before they are ripe. Our early harvest have higher levels of polyphenol content and our signature fresh, robust flavor.

Greek

All of our extra virgin olive oils are made from 100% Koroneiki olives harvested in southern Greece. The Kosterina family hails from Koroni - the home of the Koroneiki olive.