Maman Nutty-Chocolate Cookies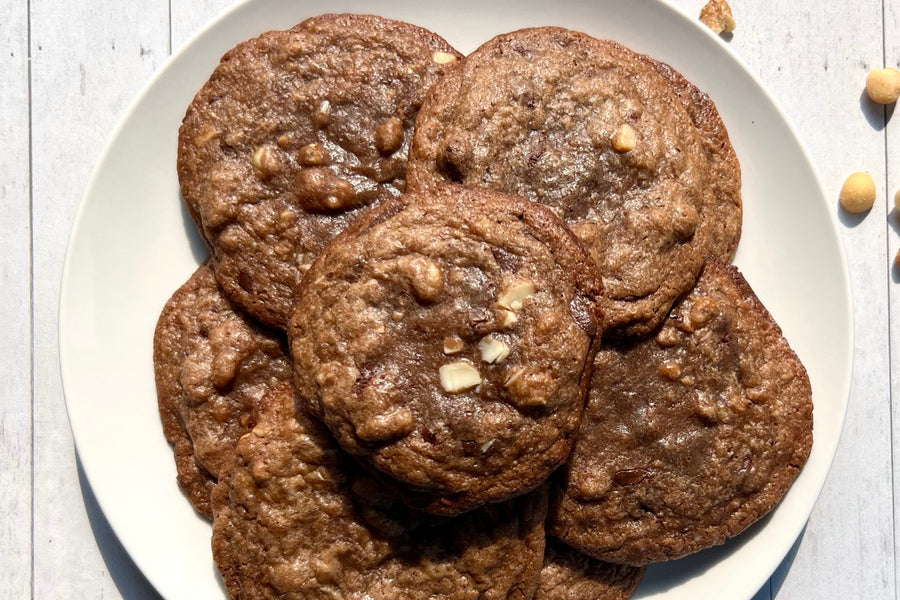 Maman Nutty-Chocolate Cookies



Prep Time




25 minutes




Cook Time




30 minutes
About this recipe:
Maman, New York's coveted bakery, didn't originally intend to create these beautiful cookies. As a french-inspired café, they strove to highlight their delicious coffee and beautiful pastries. However, at the release of these nutty, chocolatey cookies, they were sold out by mid-morning, with New Yorkers from across the state came to try their new delicacies. Now, they have released the famous cookie's recipe in their new cookbook. We just had to try the recipe for ourselves, but of course, had to use our Kosterina Organic Everyday EVOO for additional flavor. And we have to say, we think these are winners. Truly-gooey, chocolatey centers and crisp edges, combined with the crunch of nuts and bursts of dark chocolate flavor, these are a treat that you will keep having you come back for more. Enjoy!
Ingredients
11 ounces (310 g) dark chocolate baking wafers

1 Cup Kosterina Organic Everyday EVOO
1 cup (135 g) raw unsalted macadamia nuts
½ cup (56 g) sliced raw unsalted almonds
½ cup (50 g) raw unsalted walnut halves
1¾ cups (298 g) packed light brown sugar
2¼ cups (326 g) all-purpose flour
2 teaspoons fine sea salt
2 large eggs
Directions
In a stand mixer fitted with the paddle attachment, combine the baking wafers, Kosterina EVOO, macadamia nuts, almonds, and walnuts and mix on low for about 30 seconds to break down the nuts and chocolate a bit.

Add the brown sugar and mix on low until the EVOO and sugar come together. With the mixer still running on low, gradually add the flour and salt and mix until incorporated.

Add the eggs, 1 at a time, scraping down the sides of the bowl after each addition, and mix until the dough starts sticking to the sides of the bowl. Scrape down the sides of the bowl again and mix on low for 10 seconds more to evenly distribute the nuts and chocolate.

Turn the dough out onto a large sheet of parchment paper and flatten into a square roughly 1 inch (2.5 cm) thick. Fold the parchment paper to completely cover and wrap the dough, place in a resealable plastic bag, and refrigerate for at least 1 hour and up to 7 days.

Set a rack in the center of the oven and preheat to 350°F (180°C). Line a sheet pan with parchment paper.

Divide the chilled dough into 14 equal portions (about 3½-ounces/100 g each) and using your hands, roll each portion into a ball. Arrange 7 balls of dough on the prepared sheet pan, spacing them about 3 inches (7.5 cm) apart, then use the palm of your hand to flatten into disks roughly ½ inch (1.25 cm) thick.

Bake for 6 minutes. Rotate the sheet pan as needed for even baking and bake until the edges are browned but the centers are still a little gooey, 6 to 7 minutes longer.

Let cool on the sheet pan for 10 minutes, then enjoy right away or transfer to a wire rack and let cool completely.

Repeat with the remaining cookie dough.
Shop Mediterranean Essentials