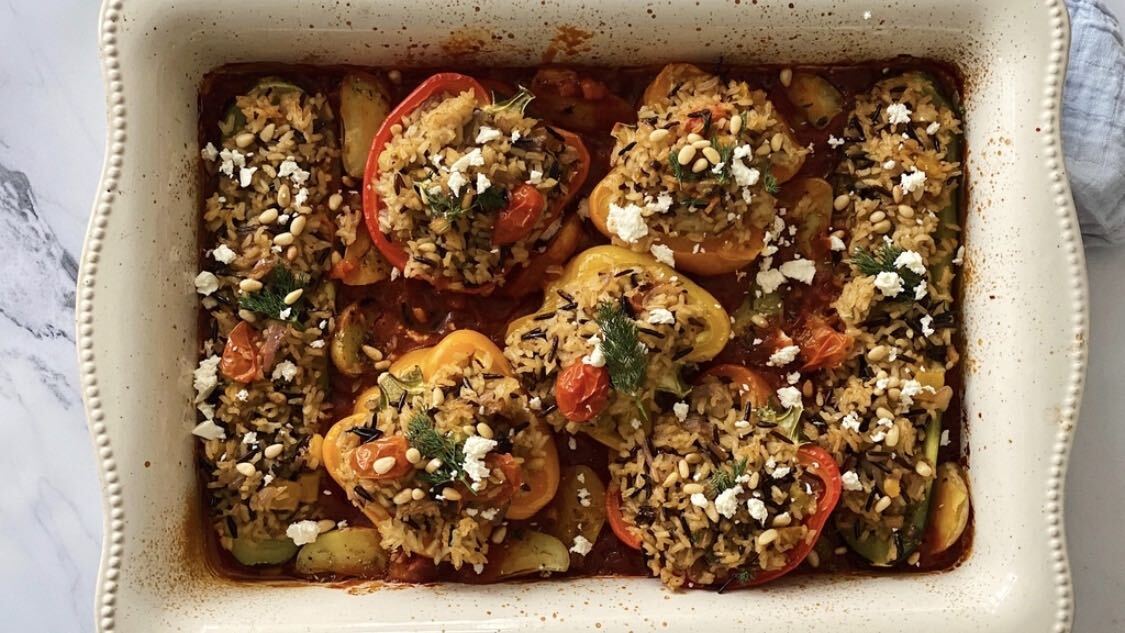 Vegetarian Gemista
About this recipe:
Gemista in Greek simply means "stuffed". Hence, this veggie dish is truly open for customization. Traditionally stuffed with ground meat, we decided to lighten the load by adding a savory wild rice mixture to our zucchini, peppers and eggplant. Great with tomatoes too, this is a main dish that vegetarians, as well as carnivores, can truly get behind. Have fun stuffing the veggies of your choice for variety and optionality. This version was development by our very own, Anna Gass (Kosterina Executive Chef). 
Ingredients
1 large zucchini
3 peppers, red, yellow, orange
2 Tablespoons Kosterina Greek Herb & Lemon Extra Virgin Olive Oil, divided
2 garlic cloves, minced, divided
1 cup red onion, chopped fine
2 cups cherry tomatoes, halved and divided
2 cups cooked wild or brown rice
2 teaspoons kosher salt
1 teaspoon freshly cracked pepper
2 Tablespoons dill, chopped fine
2 Tablespoons parsley, chopped fine
1 cup white wine, divided
1 cup tomato sauce
1 cup vegetable broth
1 lb fingerling potatoes
½ cup crumbled feta, as garnish
¼ cup toasted pine nuts, as garnish
Directions
Preheat oven to 350°F.
Slice open the zucchini and peppers down the middle. Using a spoon, remove the seeds from the peppers and the pulp from the zucchini. *Reserve the pulp*
In a large saute pan, add the oil on medium heat. Add one clove of garlic and red onion and cook for two to three minutes to soften. Add tomatoes. Chop up pulp fine and add to the mix. Cook for two more minutes, mixing as you go.
Add 1/2 cup white wine and cook for one more minute.
Add rice and mix to combine.
Add dill and parsley, salt and pepper, mix again and remove from the heat.
Wipe out the pan and add remaining oil and garlic.
Add the rest of the tomatoes and shimmy the pan to get them to burst.
Add the rest of the white wine and the broth (or water) and cook for two minutes. Add the tomato sauce and mix to combine. Add salt to taste.
In a large roasting pan, spread the tomato sauce in an even layer.
Fill the vegetables with the rice and place them in the pan. Then, place the potatoes into the sauce around the vegetables and cover with aluminum foil.
Bake for 45 minutes then remove foil and bake for 15 minutes more.
Remove from the oven and add feta and pine nut garnish.
Serve immediately or room temperature.
Shop Mediterranean Essentials