Pan-Seared Beef Medallions with Roasted Veggies + Fresh Herb Sauce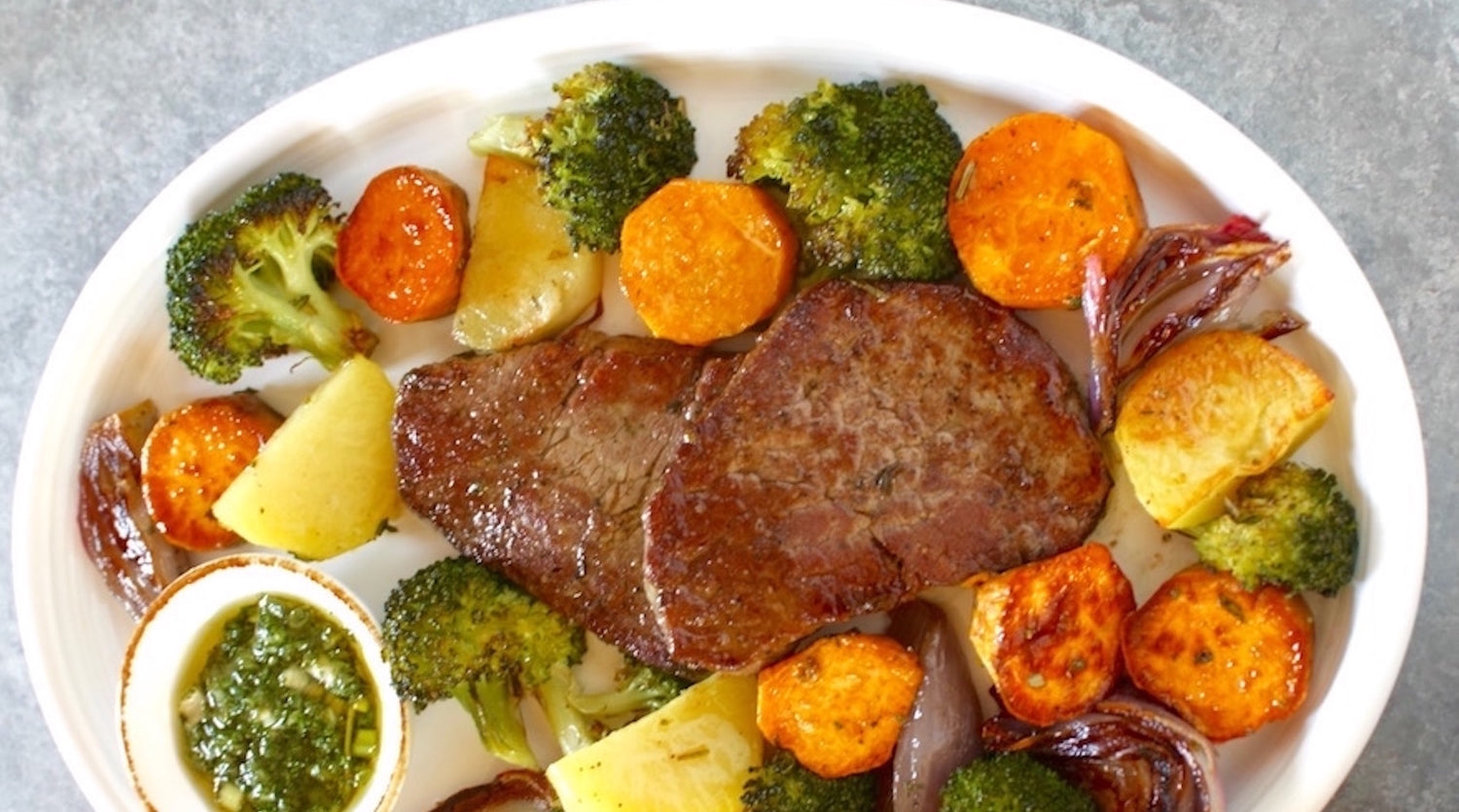 Pan-Seared Beef Medallions with Roasted Veggies + Fresh Herb Sauce
About this recipe:
This warming dinner meal is ideal for a Sunday night--it's the type of dish that makes connecting over food so easy. The fresh herb sauce goes well with any type of protein--so make a little extra and save for your favorite lunch bowl!
Ingredients
2 small sweet potatoes
2 small Yukon Gold potatoes
1 medium broccoli crown, about ½ lb.
2 medium shallots
sea salt & freshly ground pepper
1 tsp. fresh thyme
¼ tsp. garlic powder
3 TBSP. Kosterina extra virgin olive oil
2 TBSP. lemon
4 beef medallions, each about ½"- ⅔" thick and trimmed of fat
sea salt & freshly ground pepper
1 TBSP. Kosterina extra virgin olive oil
For the Fresh Herb Sauce:
¼ cup fresh parsley, minced
¼ cup fresh cilantro, minced (or substitute more parsley if you do not like cilantro)
2 med. garlic cloves, passed through a zester
2 sm. scallions, minced
2 tsp. lemon zest
2 TBSP. sherry vinegar
2 TBSP. apple cider vinegar
½ tsp. sea salt & ¼ tsp. freshly ground pepper
4 TBSP.  Kosterina extra virgin olive oil
Directions
Preheat the oven to 450°F. 
Wash and trim the vegetables. Cut the potatoes in half lengthwise and then cut them again crosswise into ½-inch pieces. Cut the shallots into ½-inch-wide wedges. Separate the broccoli florets, leaving about 1 inch of the stem in place. Place all the vegetables in a sheet pan lined with aluminum foil. Season everything with salt, pepper, fresh thyme and garlic powder. Drizzle with the Kosterina olive oil, toss well to coat. Roast on the middle rack of the oven until the veggies are tender and lightly brown, about 20-25 minutes.
Make the fresh herb sauce: combine all ingredients in a small bowl and whisk to combine. Cover and let it sit at room temperature for at least half an hour.
When the vegetables are about half way done, prepare the beef medallions. Remove the beef from the refrigerator. Pat dry with paper towels and season generously with salt and pepper on both sides.
Place a large pan over medium-high heat (a cast iron pan would work well). When the pan is hot, add the olive oil and then the beef. Cook for 2-3 minutes on each side for medium-rare, or, longer for your desired doneness. Remove to a platter, cover loosely with foil and let it rest for 5 minutes. 
When the vegetables are ready, remove from the oven and drizzle with the lemon juice. Toss them gently, taste and adjust the seasoning. Place them along with the beef medallions on a warm platter and drizzle with some Kosterina olive oil. Serve with the fresh herb sauce on the side.
Shop Mediterranean Essentials