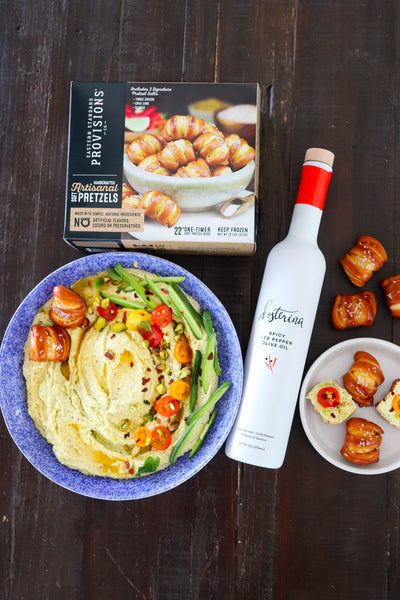 Easy Whipped Feta Dip
About this recipe:
We are so excited to partner with Eastern Standard Provisions Co. for this recipe! Whipped Feta Dip and Kosterina Spicy Red Pepper EVOO is already a match made in heaven, and with the addition of these soft pretzel bites, you simply won't be able to resist! A perfect blend of textures with light & creamy feta and tender-soft pretzels, accompanied by a hint of spice from the EVOO, you will fall in love with this quick & easy feta dip.
Ingredients
1 Bag Eastern Standard Provisions Turnbuckle Soft Pretzel Sticks
1 Bag Eastern Standard Provisions One-Timer Soft Pretzel Bites
1/4 Cup Kosterina Spicy Red Pepper Olive Oil
16 Oz. Feta cheese
2/3 Cup shelled pistachios
1/2 Cup packed fresh mint leaves
3/4 Cup plain full-fat greek yogurt
2 Tbsp lemon juice
Zest from one lemon
1 Baby cucumber
Handful cherry tomatoes
Directions
In a food processor, blend the shelled pistachios until a smooth nut butter forms. (This may take a few minutes.)
Add the feta, mint, yogurt, lemon juice, and lemon zest and blend to combine. While the food processor is running, add the oil in a thin and steady stream through the hole of the processor's lid. Continue blending until light and silky smooth in texture.
Cut Turnbuckles and One-Timers in half.
Spread mixture over Turnbuckles and One-Timers, or simply dip.
Top with cucumbers, cherry tomatoes, and a drizzle of oil.
Enjoy!
Shop Mediterranean Essentials