Easy Pasta with Garlic, Olive oil, Parsley & Pecorino cheese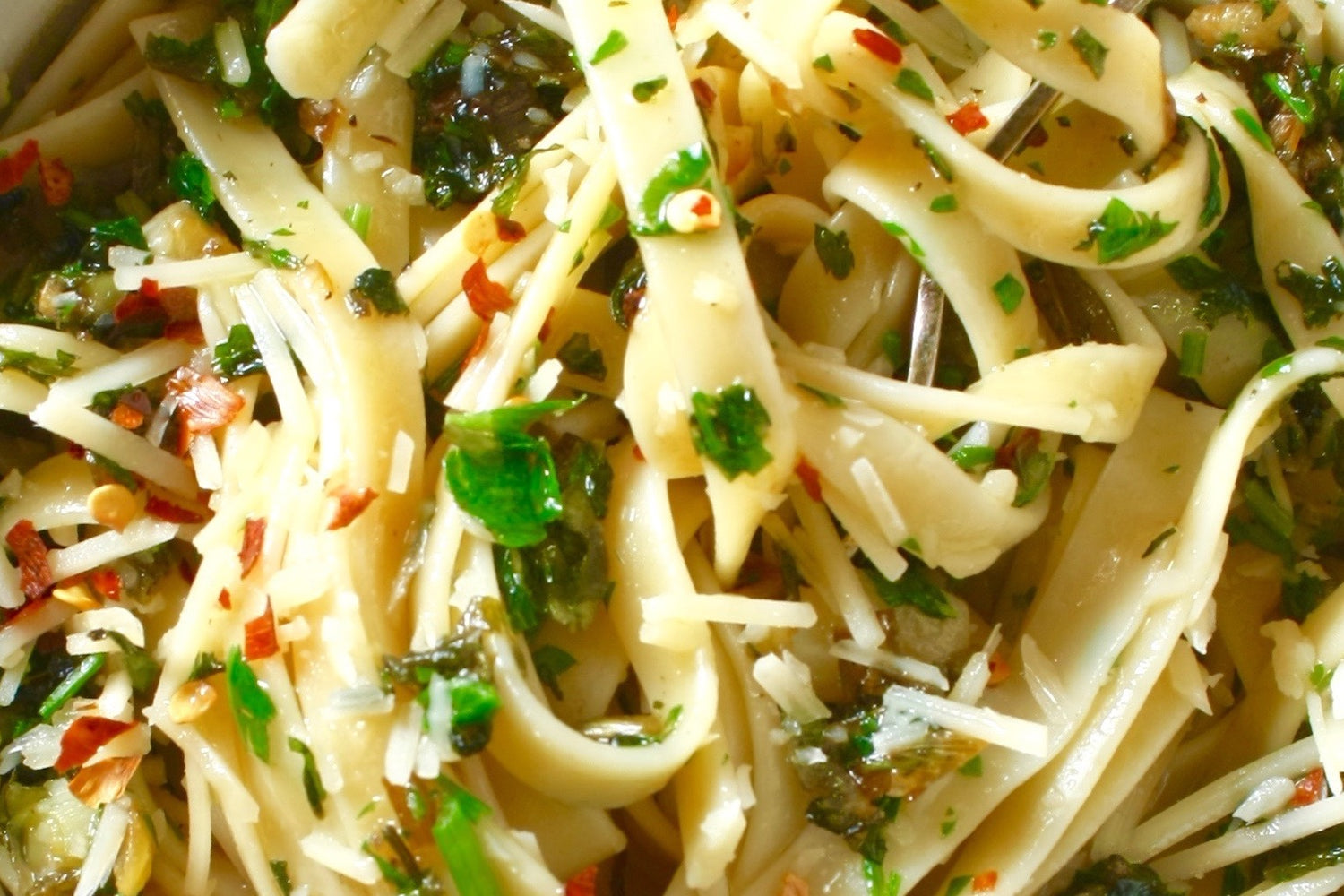 Easy Pasta with Garlic, Olive oil, Parsley & Pecorino cheese
About this recipe:
This classic Italian pasta dish can be ready as soon as the pasta boils (that's our type of meal!). 
Ingredients
1 TBSP. salt
¾ Lb. spaghetti
⅓ cup Kosterina extra virgin olive oil
6-8 large garlic cloves, chopped
½ tsp. red pepper flakes (crushed dried chilies)
¾ tsp. salt
¾ cup fresh parsley, minced
1 cup freshly grated Pecorino cheese, plus extra for serving
Kosterina extra virgin olive oil for drizzling
Directions
Bring a pot of water to a boil. Add 1 tablespoon of salt and stir in the pasta. Cook until al dente. Before you drain the pasta, reserve and set aside 1 cup of the cooking water. Drain the pasta.
Meanwhile, heat the olive oil over medium heat in a large shallow skillet. (The skillet should be large enough to hold the cooked pasta). Add the garlic and cook for 2 minutes, stirring frequently, until it just begins to turn golden on the edges. Make sure you watch it closely so it doesn't overcook!
Add the red pepper flakes and cook for 30 seconds more. Carefully add half of the reserved pasta-cooking water to the garlic and oil and bring to a boil. Lower the heat, add ¾ teaspoon of salt, and simmer for about 3 minutes, or until the liquid is reduced by about a third. (The starch of the pasta water will help thicken the sauce.)
Add the drained pasta to the garlic sauce and toss. Check and add more of the reserved pasta water to the skillet if necessary.
Remove from the heat, add the parsley and Pecorino cheese and toss well. Allow the pasta to rest off the heat for a minute and for the sauce to be absorbed.
Taste and adjust the seasoning. Serve warm with a generous drizzle of your Kosterina olive oil and some extra Pecorino cheese on the side.
Shop Mediterranean Essentials