Whipped Goat Cheese with Candied Bacon and Dates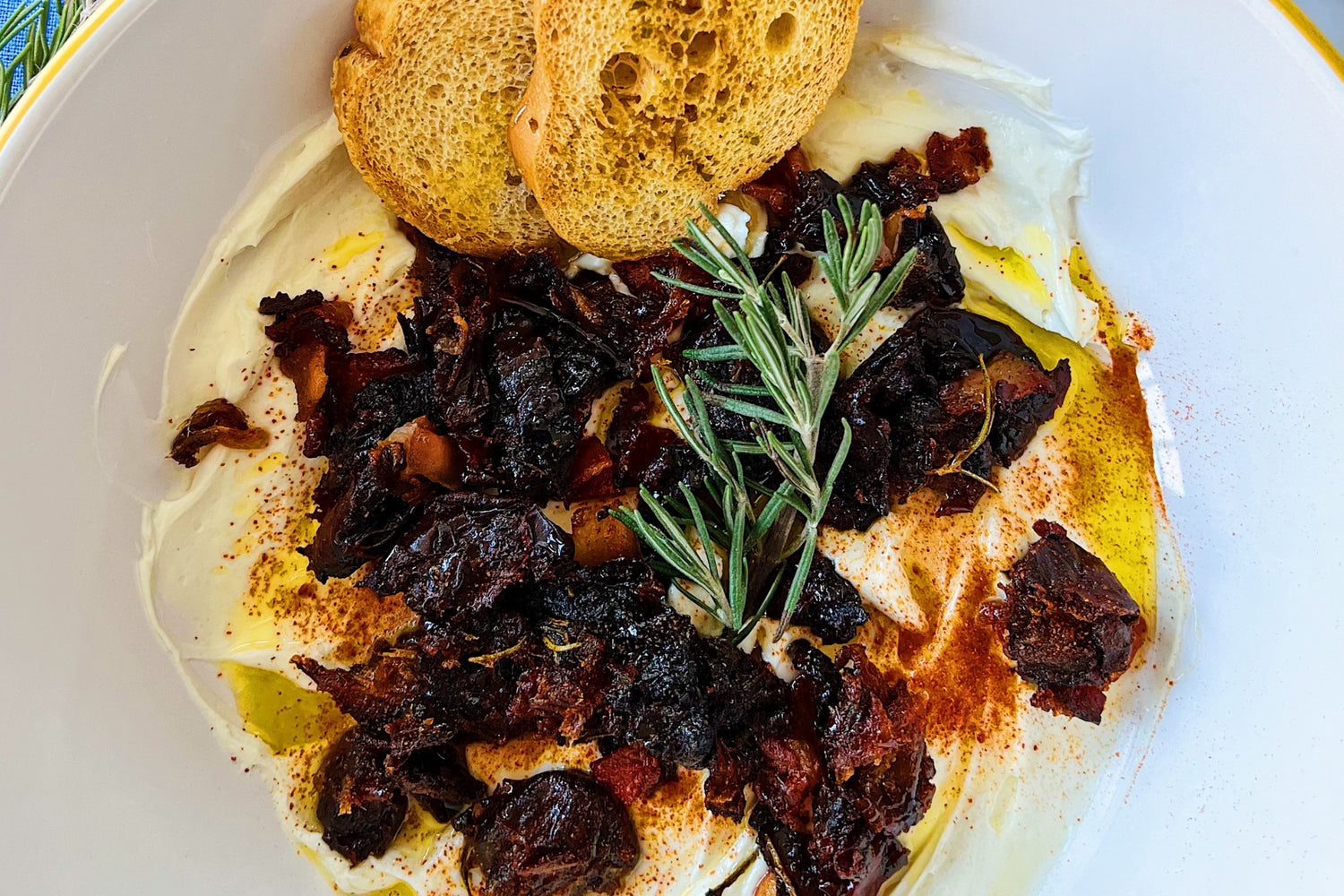 Whipped Goat Cheese with Candied Bacon and Dates



Serves




4-6




Prep Time




15 minutes




Cook Time




20 minutes
About this recipe:
Inspired and originally created by Tieghan Gerad at Half Baked Harvest, our Executive Chef - Anna Gass, re-created this delicious dip using our Extra Virgin Olive Oil, and we can attest it is both addictive and a crowd-pleaser.
The flavors come together beautifully to make a creamy, rich, and oh-so merry dip that pairs beautifully with your favorite warm, crusty bread. Crispy bacon and dates are the perfect pair, and the hot honey and garnish of rosemary make every bite slightly sweet with a kick. Festive and delicious - the perfect combo for an appetizer in December. ⁠
Ingredients
6 slices bacon, chopped
2 tablespoons chopped fresh rosemary
1 teaspoon brown sugar
1/3 cup plus 1 teaspoon honey
1/2 teaspoon cayenne pepper, using more or less to taste
12 plump Medjool dates, pitted and torn
1 log (10 ounce) creamy goat cheese, at room temperature
4 ounces cream cheese, at room temperature
3 tablespoons Kosterina Original Extra Virgin Olive Oil (and more for drizzling)
Pinch of sea salt
Directions
Preheat the oven to 400° F. Line a baking sheet with parchment paper.
On the baking sheet, toss together the bacon, 1 tablespoon rosemary, the brown sugar, 1 teaspoon honey, and the cayenne. Arrange in an even layer. Tear the dates and scatter them around the bacon. Bake 8-10 minutes, until the bacon is crisping.
Meanwhile, combine the goat cheese, cream cheese, olive oil, and a pinch of salt in a food processor and pulse until smooth and creamy. The goat cheese mix can be kept in the fridge for up to 3 days, but bring to room temp before serving.
In a small bowl, combine 1/3 cup honey, 1 tablespoon rosemary, a pinch of cayenne – to taste, and a pinch of salt.
Spoon the goat cheese into a serving bowl and then top with the warm bacon and dates. Drizzle over a little the rosemary honey. Serve with bread or crackers.
Shop Mediterranean Essentials
Regular price
Sale price
$19.95
Unit price
per
Specifically crafted with cooks and bakers in mind.
Regular price
Sale price
$29.95
Unit price
per
Our highest polyphenol EVOO straight from Southern Greece.
Regular price
Sale price
$159
Unit price
per
Always have the Original on hand with a half case of 500ml (6 bottles).