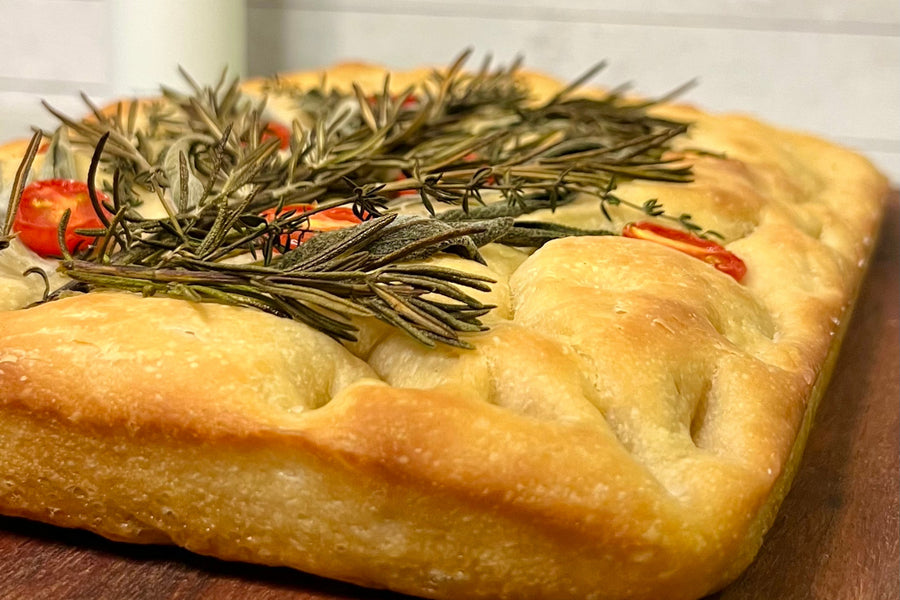 Focaccia with Spicy EVOO



Serves




6-10




Prep Time




30 min




Cook Time




30 min
About this recipe:
This focaccia recipe is sure to become a staple in your kitchen, incorporating flavors of rosemary, sage, thyme, and a kick from our Kosterina Red Pepper Spicy EVOO. While it may take some wait time and planning ahead, you will not be disappointed with this perfectly fluffy bread. You'll be using this to soak up all of your leftover olive oil!
Ingredients
2 Cups Lukewarm Water

4 Cups Flour

2 tsp Active Dry Yeast

2 tsp Salt

Kosterina Everyday EVOO

Kosterina Spicy EVOO

Rosemary Bundle

Sage Bundle

Thyme Bundle

Cherry Tomatoes

Flakey Sea Salt



Directions
Combine all ingredients for the dough, starting with lukewarm water and yeast. Let the yeast and water mixture sit for 15 minutes to bloom before adding Flour and Salt.

Mix using a stand mixer with paddle attachment or with rubber spatula. Once all ingredients are mixed together a sticky ball should form. Cover the ball in EVOO and cover bowl with plastic wrap or a damp tea towel.

Let rise in the fridge for 12+ hours or at room temp for 2-3 hours.

In a 9 x 13 baking pan, drizzle 2 Tbsp of Kosterina Everyday EVOO.

After the dough has risen, carefully remove from bowl and place in the well oiled baking pan. Cover with a towel and let rest in the pan. 3-4 hours for Refrigerated Dough, 1-2 hours for Room Temp.

After the dough has rested, drizzle Kosterina Everyday EVOO on hands before using your fingers to create dimples in the dough (this will prevent sticking). Spread the dough while adding dimples to fill out the corners of the pan if needed.

Drizzle Kosterina Spicy EVOO on top of dough, about 2 Tbsp.

Decorate dough with Rosemary, Sage, Thyme, and Cheery Tomatoes to form a Tree Shape. Sprinkle Flakey Sea Salt on top. These herbs can also be removed from their stems and sprinkled on top of the dough if desired.

Bake at 425 for 25-30 minutes until golden brown. Remove from pan and cool before enjoying!
Shop Mediterranean Essentials