Strawberry Cottage Cheese Ice Cream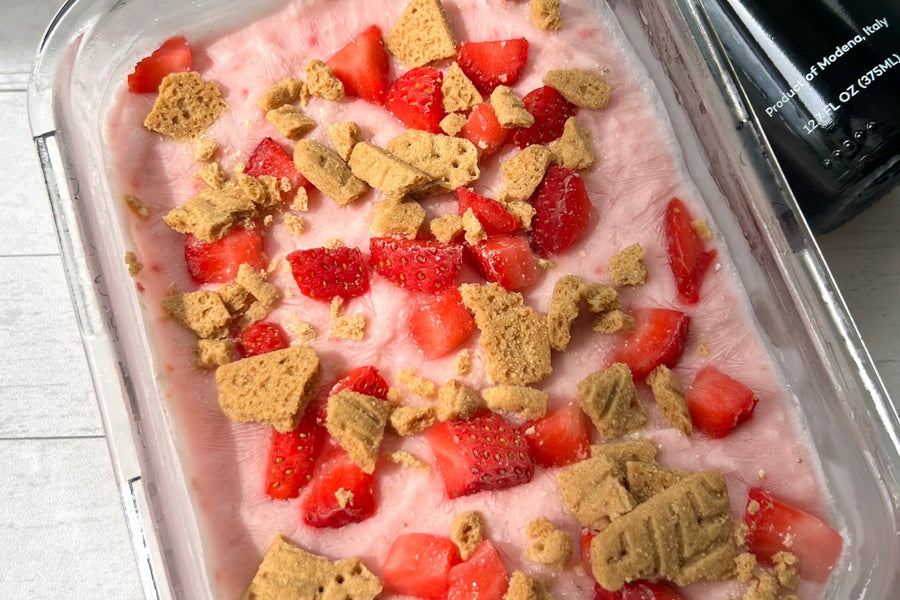 Strawberry Cottage Cheese Ice Cream
About this recipe:
At the intersection of health and decadence, this high-protein cottage cheese ice cream is the delicious guilt-free treat that will satisfy your sweet tooth cravings. Perfectly smooth, creamy, and paired with two summer staples: strawberries and graham crackers, this will be your new go-to for the warmer days. Finished with a drizzle of Kosterina Fig Balsamic Vinegar. Plus, did we mention, it only takes 10 minutes of active work? Now that's a Summer recipe.
Ingredients
1 (750 g) tub high fat cottage cheese, strained and liquid removed
1 cup fresh strawberries
3 tablespoons honey
Graham cracker crumbs
Fresh strawberries, sliced
Kosterina Fig Balsamic Vinegar
Directions
Using a strainer or cheesecloth, remove liquid from cottage cheese.
Add cottage cheese, strawberries, and honey to a food processor and blend until smooth, approximately 60 to 90 seconds.
Add cottage cheese mixture to a freezer-safe container. Top with graham cracker crumbs and sliced strawberries and place in the freezer until solid, approximately 4 to 5 hours.
Before serving, allow the ice cream to thaw at room temperature for 5 to 7 minutes.
Scoop out into bowls and drizzle with Kosterina Fig Balsamic Vinegar.
Shop Mediterranean Essentials