Spicy Shrimp and Spaghetti Aglio Olio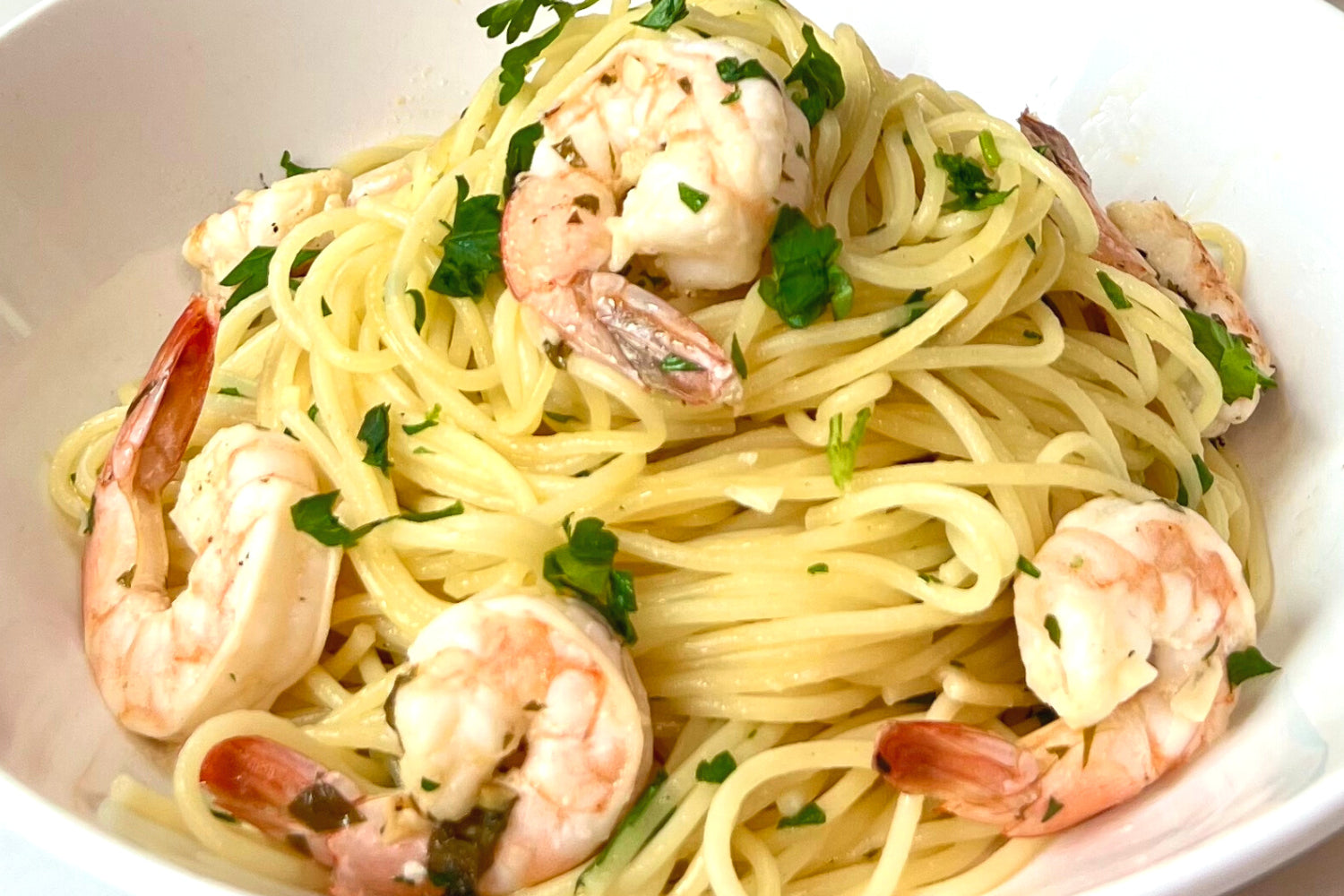 Spicy Shrimp and Spaghetti Aglio Olio
About this recipe:
We're here to claim that this is one of the simplest, yet most satisfying pasta dishes. We took a slight twist on the traditional Italian dish, by adding our new Spicy Red Pepper Olive Oil and shrimp for protein. This meal comes together quickly and is packed with flavor. A terrific recipe for dinner anytime of year.
Ingredients
2 Tbsp Kosterina Spicy EVOO

1lb Fresh or Frozen Shrimp (about 12 medium Shrimp)

2 Gloves Garlic, Chopped - Handful of Chopped Parsley (about 2-3 Tbsp)

Juice of 1/2 Lemon

1 tsp Salt

3-4 Tbsp of Kosterina EVOO

3 Garlic Cloves, Minced

Handful of Chopped Parsley (about 2-3 Tbsp)

Thin Spaghetti (half a box)
Directions
Cook Spaghetti (follow your box for cooking instructions).

In a pan on Medium Heat, add Spicy EVOO and Garlic. Cook for about 1 minute then add Chopped Parsely.

Stir EVOO, Garlic, and Parsely before adding in Shrimp.

Cook Shrimp for 3 minutes, flipping half way.

Remove shrimp from pan and place on warm plate to keep warm.

Remove pan from heat and remove excess oil.

Wipe bottom of pan with paper towel carefully before putting back on the stove.

On Medium Low heat, add 3-4 Tbsps of Spicy EVOO (about 6 turns around the pan) and Garlic.

Let cook for about 2 minutes until fragrant.

Turn heat to Low, add Spaghetti and Chopped Parsley.

Toss Spaghetti until fully covered in Garlic and Oil, add in Shrimp and toss again before serving.
Author notes
ull recipe uses about 1/4 cup of Chopped Parsely amd 5 Garlic Cloves - Boil Pasta while Cooking Shrimp
Shop Mediterranean Essentials