Spicy Lamb Chops with Chimichurri Sauce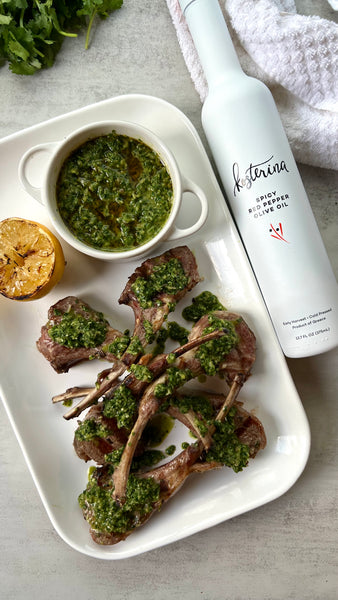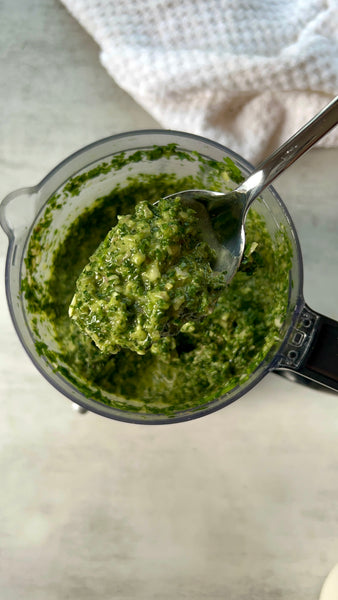 Spicy Lamb Chops with Chimichurri Sauce
About this recipe:
As we start preparing for the big feast on Easter day, we are cooking up one of our family favorites: Lamb Chops, but with a spicy twist. We created a chimichurri sauce loaded with fresh herbs and our Spicy Olive Oil to really bring out the juicy flavor in the grilled chops.
Ingredients
For the Lamb:
8 Lamb Chops

4 Tablespoons of Kosterina Everyday EVOO

1 Tablespoon of Fresh Chopped Rosemary

3 Cloves of Minced Garlic

1 teaspoon of Salt

Pepper to Taste
For the Chimichurri Sauce:
½ Cup Kosterina Spicy Red Pepper EVOO

1 Cup Fresh Parsley

½ Cup Fresh Cilantro

3 Tablespoons Fresh Oregano

1 Small Shallot

3 Garlic Cloves

3 Tablespoons Red Wine Vinegar

Juice of 1 Lemon

½ Teaspoon Salt

Pepper to taste
Directions
For the Lamb:
Preheat your grill or grill pan to medium-high heat. Bring Lamb chops to room temperature while making the marinade.

Combine all ingredients for the Lamb in a small bowl. Spoon mixture over both sides of the lamb.

Grill Lamb chops for 3-4 minutes on each side then let rest while making the chimichurri.

Rough Chop Parsley, Cilantro, and Oregano. Chop Shallot. Add all ingredients to a food processor. Using the chop setting on the food processor, chop until all ingredients are combined. This can also be done by hand but finely chopping all ingredients and mixing together in a bowl.

Serve Lamb Chops with Chimichurri on the side or drizzled on top of the Lamb Chops.
Shop Mediterranean Essentials