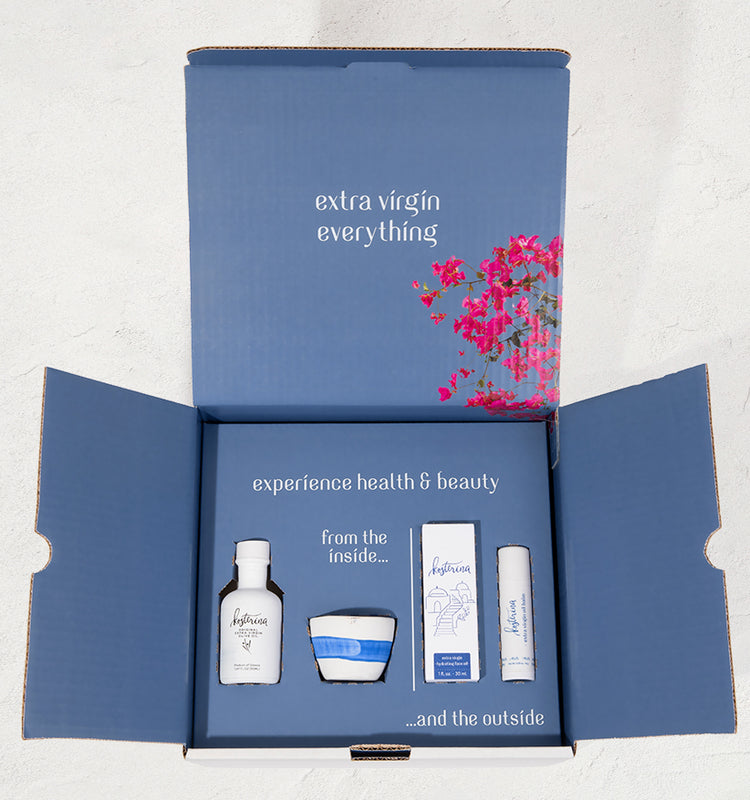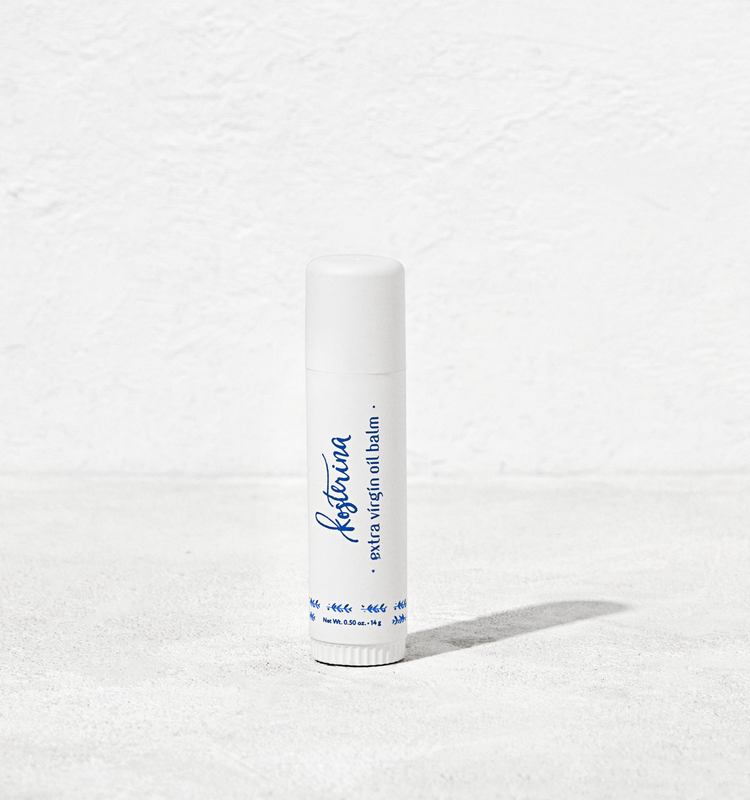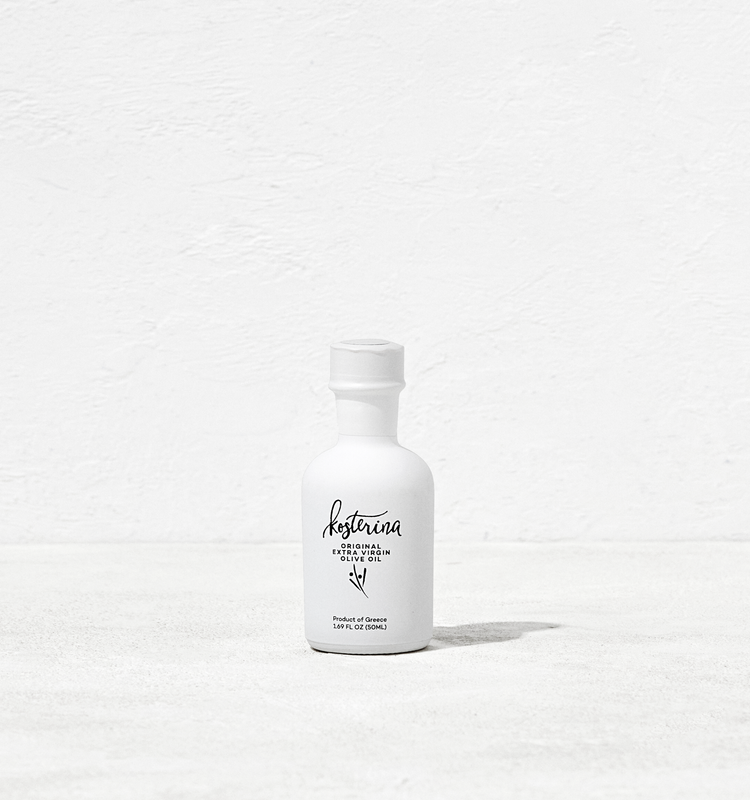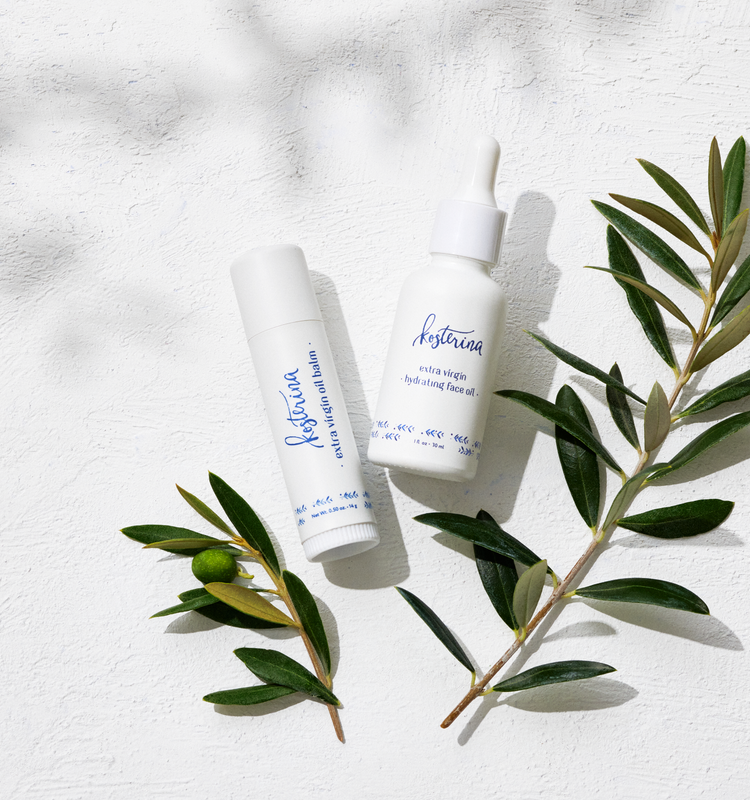 Regular price
Sale price
$85
Unit price
per
Experience health and wellness from the inside and the outside with the Greek Glow Gift Set. Sip high-antioxidant EVOO and layer on EVOO-infused skincare for a fresh-from-Greece glow.
What's inside

The power of our face oil in a super convenient stick for on-the-go nourishment.
Details

Products of Greece & USA.

Kosterina skincare is powered by our signature, early harvest high-polyphenol extra virgin olive oil. Polyphenols reduce inflammation, providing incredible health benefits for your body and skin. With the Greek Glow Gift Set, embrace the power of polyphenols by sipping our Original Extra Virgin Olive Oil and applying our new skincare to your face. The set contains one mini Original Extra Virgin Olive Oil (50ml), a beautiful artisanal ceramic cup handmade by Karacotta Ceramics, a full-sized bottle of our Extra Virgin Hydrating Face Oil, and a full-sized stick of our Extra Virgin Oil Balm. Our skincare is made from a powerhouse duo of our 100% pure, signature extra virgin olive oil and lachestim, a restorative oil that can only be found from mastic trees from the Greek island of Chios. Note: each ceramic cup is handmade, so each piece is a unique blue and white design.
How to Use

Enjoy 2 teaspoons of EVOO every morning before applying 2 – 3 drops of our face oil and massaging gently into skin. Our face oil may also be used on the neck, chest, hands, elbows, or any place that needs extra moisture; our oil balm is also perfect for adding extra moisture throughout the day.
Ingredients

Extra Virgin Olive Oil: Our 100% signature, early-harvested Extra Virgin Olive Oil imported from Greece, contains an exceptionally high polyphenol content (over 450 mg/kg) and helps to neutralize free radicals before DNA damage in skin cells occur while hydrating the skin and protecting skin's own moisture barrier. Lachestim (Mastic Gum): An exceptional oil extracted from the Pistacia Lentiscus, a tree native to the island of Chios, Greece, Lachestim is known to reactivate youth proteins and improves the supporting fiber density. By reactivating cellular anti-oxidant activity that improves DNA protection, this core ingredient helps skin look younger and fuller Olive-derived Squalane: Known to hydrate and maintain the skin's barrier while it fights free-radical damages, this valuable lipid is extremely compatible with the skin to helps restore a more youthful appearance.
Shipping

Orders ship from our warehouse in Indiana within 1-2 business days via UPS. You will receive an email with your tracking number as soon as your order ships. Please reach out to hello@kosterina.com for assistance with your order.
Tips

Beauty from the inside out. Adding our EVOO face oil to your skincare routine is like taking a quick trip to the Mediterranean seaside: nourishing and needed. Generously apply our face oil and use your favorite facial roller, gua sha, or simply your fingers to massage the skin upward and outward to promote a healthy glow. Our oil balm can double as a highlighter in a pinch: swipe our oil balm onto your cheekbones and the high points of your face for a simple, dewy glow.
Try it with...
Formulated Free Of
Parabens
Phthalates
Petroleum
Sulfates
Harmful Emulsifiers
Why you'll love Kosterina Skincare
Clean Ingredients

All of the good stuff, none of the bad. Formulated to be free of parabens, emulsifiers, phthalates, formaldehyde, petrolatum and paraffin.

High Performance

Enriched with Extra Virgin Olive Oil, Lachestim and Olive-derived Squalane that deeply hydrate and protect the skin's barrier from external aggressors.

Signature Scent

Reminiscent of the Mediterranean seaside, our herb spice essential oil blend includes cardamom seed oil, lemon oil, sandalwood, rosemary and lavender.