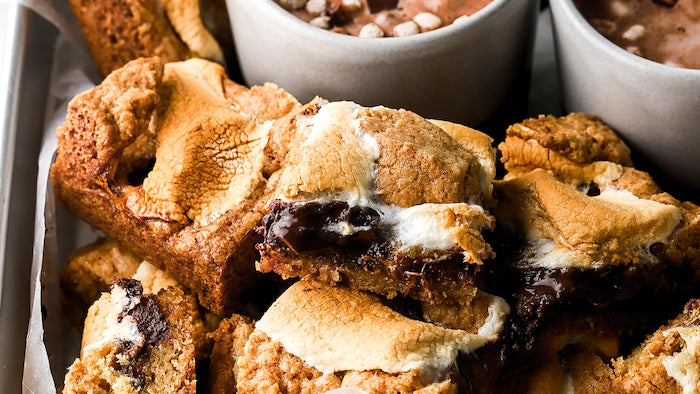 S'mores Bars
About this recipe:
These S'mores Bars from Baran Bakery are the perfect dessert to cozy up with on a cold winter night. The chocolate flavor is made extra special with the addition of our Almond Butter & Vanilla EVOO Dark Chocolate bars. 
Ingredients
1 1/2 cups all-purpose flour
1/4 cup graham cracker crumbs, spooned and leveled
1/2 tsp baking soda
1/4 tsp salt
1/2 cup unsalted butter, melted
1 cup granulated sugar
1 tsp vanilla extract
1 large egg, room temperature
2 Kosterina Almond Butter & Vanilla EVOO Dark Chocolate bars
12 large marshmallows
Directions
Preheat oven to 350F. Use cooking spray and parchment paper to grease and line an 8-inch square pan.
In a medium bowl, mix the flour, graham cracker crumbs, baking soda, and salt.
In another medium bowl, mix the butter and sugar.
Add the vanilla extract and egg to the butter and sugar mixtures and mix together until smooth. 
Pour the dry ingredients into the wet ingredients and fold until smooth.
Take 2/3 of the dough and press it into the pan until it covers the bottom. 
Cut the chocolate bar into squares and place over the dough in the pan. Spread the marshmallows evenly over the dough.
Split the remaining dough into chunks and sprinkle over the marshmallows. 
Bake for 25 minutes and then allow to cool for at least 30 minutes before serving. 
Slice into 9 squares and serve. 
Shop Mediterranean Essentials