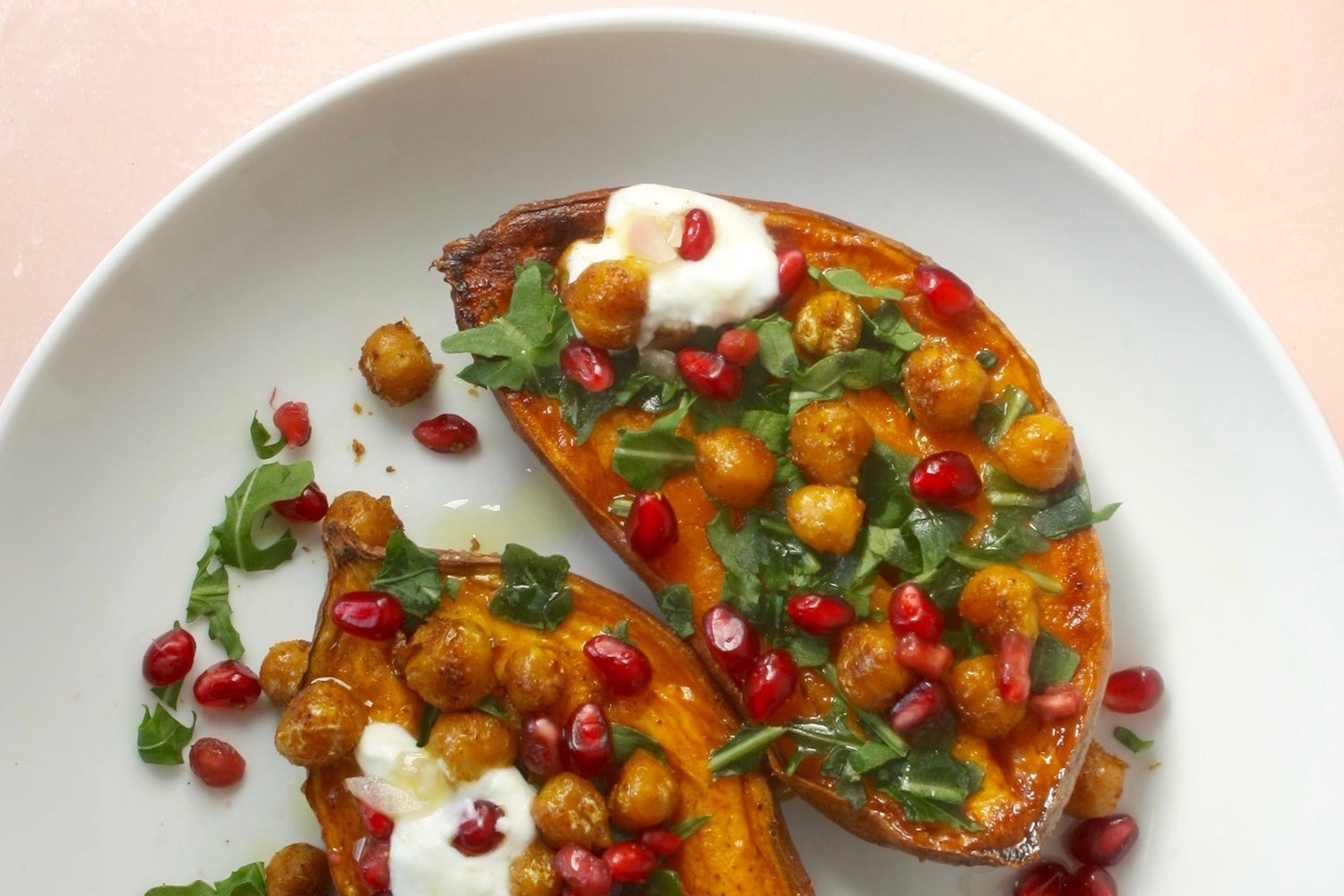 Roasted Sweet Potatoes
About this recipe:
This satisfying dish is vegan and gluten-free. It pairs beautifully with roasted chickpeas, and a bright, white balsamic vinaigrette on top. And, feel free to add any of your favorite toppings--pomegranate seeds are our favorite!
Ingredients
2 medium sweet potatoes
Kosterina extra virgin olive oil
extra salt for sprinkling the sweet potatoes
½ can chickpeas, rinsed and drained
½ TBSP. Kosterina extra virgin olive oil
⅛ tsp. each sea salt, cumin, coriander, sweet paprika for the chickpeas
2 tsp. lemon juice
For the Balsamic-Shallot Vinaigrette:
¼ cup white balsamic vinegar
2 TBSP. shallots, finely chopped
½-1 tsp. salt
¼ tsp. freshly ground black pepper
¾ cup Kosterina extra virgin olive oil
For the Garnishes:
Greek yogurt (optional)
Arugula (optional)
Pomegranate seeds (optional)
Directions
Preheat the oven to 400°F and line a baking sheet with foil.
Scrub the potatoes, wash them, then cut them in half, length wise (this will speed cooking time).  Rub the sweet potatoes with a bit of Kosterina extra virgin olive oil, sprinkle them with some salt, and place them face down on the baking sheet. Roast for about 20 minutes, or, until they are fork-tender.
While the sweet potatoes are roasting, rinse and drain the chickpeas. Toss them in a small skillet with the Kosterina olive oil and the salt and spices, then sauté the chickpeas gently over medium heat for about two to three minutes. Add the lemon juice, mix well to coat, remove from the heat and set aside.
To make the vinaigrette, add all ingredients listed for the white balsamic-shallot vinaigrette (above) in a small jar and shake well to combine. 
To serve, flip the roasted sweet potatoes flesh-side up and place on a plate. Gently open them up and drizzle some of the white balsamic-shallot vinaigrette over the each hot potato, then top with the seasoned chickpeas. (Reserve the rest for another recipe.) Add a small dollop of Greek yogurt, some arugula, and sprinkle with a few pomegranate seeds. Serve warm.
Shop Mediterranean Essentials